Stefanie Coleman has presented to over 25,000 professionals in all different fields, levels, services, and industries. In addition to public seminars, she has delivered onsite programs to organizations such as Toyota, Lockheed Martin, Capitol One, STIHL, Choice Hotels, NASA, Verizon, ExxonMobil, and the U.S. Patent and Trade Office.
A consummate professional with extreme attention to detail, Stefanie works hard to ensure that her training and speaking not only meet, but exceed the expectations of each individual group. She will partner with you to assess your group's needs, consult with you on customization of the program, design the workbook, and assist with logistics when necessary.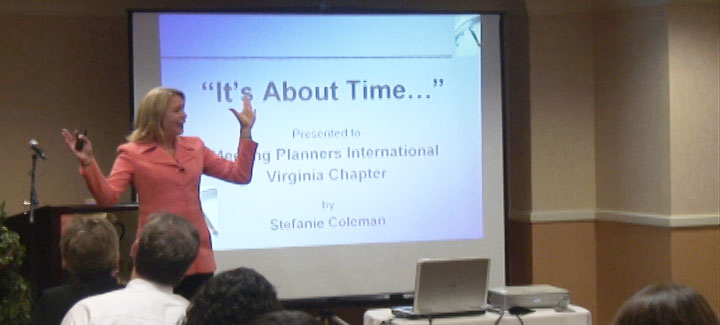 Stefanie can motivate and educate your employees with workshops, keynotes, and breakout sessions on the following topics and more:
"It's About Time. . ."
Do you feel like you're always crawling out from under things rather than being on top of them? Are you overwhelmed by your to-do list? Do you struggle to stay focused through constant interruptions? Are you always putting out fires? Isn't it "about time" we took back control of our time?…
Click here for more Time Management Skills topic information
Getting from "Shoulda Said" to Well Said!"
Have you ever had the experience of fielding a request, being called on in a meeting, having to address a conflict or performance issue and just not knowing what to say? Sometimes we say nothing at all, other times we say the absolute wrong thing. …
Click here for more Communication Skills topic information
The A+ Administrative Assistant
How can your administrative assistants support you effectively if you aren't supporting them with opportunities to grow and improve? Administrative professionals are a valuable and integral part of any successful team. …
Click here for more Administrative Assistant Skills topic information
Training Testimonial
"Recently, we had the privilege of a full day of training and interactive learning about a topic that is the key to any company's growth and effectiveness – clear, caring, and complete communication. We have participated in many, many programs, both individually and as an entire organization… I can truthfully say that the day we spent with Stefanie had more positive impact than any we have ever participated in.
Though I know communications training is only one of her specialties, her knowledge, enthusiasm, and style of interacting with participants was as effective as any I have ever seen or experienced. She made a difference for us (and we're not an easy group to please!) and I know she can make a difference for you."
– Pamela J. Nelson, Chief Executive Officer, CCG Systems, Inc., Norfolk, VA
Speaking Testimonial
"Thank you for the wonderful job you did as our opening conference keynote. You are truly a talented, energetic, and charismatic speaker and kept our group focused and alert on the topic of time management.[…] I received many compliments on your speaking over the course of the conference and appreciate that you did such a great job, as that reflects on me as well. One of the comments I heard repeatedly is your wonderful use of body language and how it emphasizes your passion for the subject. This kept the attendees alert and energized and all were able to take home your inspirational words of wisdom on the subject. My only dismay is that we didn't leave you enough time. You could have easily filled up further time slots and it would have been a pleasure to have you speak longer. We'll definitely keep this in mind for the next time."
– Sundae Barker, IntraNexus Healthcare Users Group Board Member, Laconia, NH